Article
How training can help with non-conformances
With ever increasing competition, organizations are under increasing pressure to ensure they can deliver the highest quality of product or service, and the best possible price, delivered in a safe working environment, often using ethically sourced raw materials.

An increasing popular route to demonstrate this is through certification.

The process to achieve certification involves the business in implementing a management system to comply with the specific standard and then the verification of the effectiveness of this management system via an external audit.

During the external audit (or even during internal audit) it is possible that non-conformities are raised. Non-conformities can be helpful as they expose areas of the organization which could work more effectively or efficiently.

Non-conformities will need to be closed to maintain certification therefore it is essential for an organization to have a plan in place that deals with corrective action to close the non-conformity.


Root cause analysis and corrective action
Once a non-conformance has been raised the first step is to identify the problem and fix any immediate impact. This can involve utilizing problem solving skills; what has happened, why, who is affected and how?

Organizations will then have to define possible solutions, assess the advantages and disadvantages of each and reach a conclusion as to the best possible route to resolve the non-conformance. This may mean a small change how the business works or it could involve a more major change which will require project planning to implement properly.


Problem solving and project management training
Greater productivity and adherence to standards and processes

Improved ability to implement and realize specific goals outlined in a company's business plan

Your staff feel more confident in applying systems and processes and understand what to do when faced with change

Higher level of customer satisfaction which will increase the effectiveness of your organization

Training whether specific to the standard or management or operational training will provide greater new business opportunities, increased profitability and stability in the throughout the organization.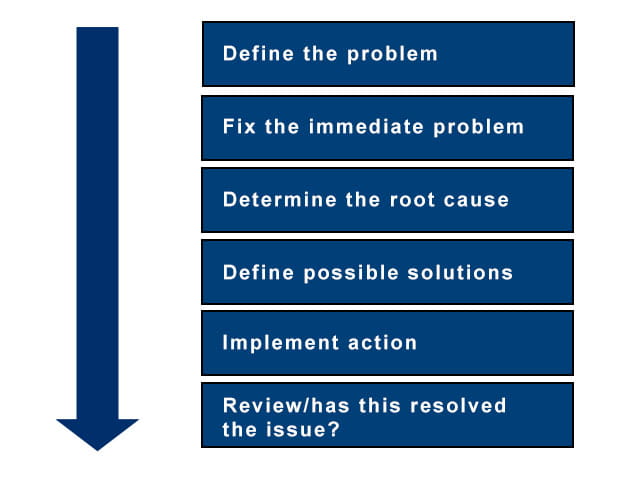 BM TRADA 's Practical Toolkit courses cover both project management and problem solving among other practical skills that can enhance employee performance.

Download the Training Course Directory for the full list, or call one of our training experts on +44 1494 569841 or email us and we'll get in touch.

To talk to an BM TRADA certification expert, email us or call us on + 44 1494 569745.