Gaining certification is a well-earned achievement that can bring significant benefits to your organization's reputation and help you win business.
It is important for you to be able to tell your stakeholders about your certification, so we have developed tools to help you promote your achievement and show your organization's commitment to certain standards.


Using your certification marks when promoting your certification
On confirmation of your successful certification you will receive a certificate, certification marks and guidance on how and where to use your certification marks.
As recognized signs of achievement, we encourage you to use the marks you have earned as widely as possible to promote your certification.
By following the guidelines provided with your marks you will be able to successfully promote your certification on brochures, stationery, websites, vehicles and other materials.
We also encourage you to link from your website to ours, so your customers and prospects can discover more about why you have chosen to achieve certification from a UKAS accredited body. 


Current certification marks
The current design of certification marks issued by BM TRADA relate to a specific certification scheme.
In their generic form, they appear as follows: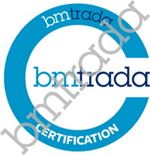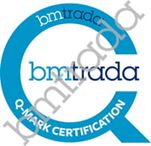 Organizations certified to schemes operated by BM TRADA should display the scheme specific mark based upon the above C-Mark and Q-Mark examples.