Visual Strength Grading - Temperate Hardwoods training course
A practical two day course to grade hardwood to the visual strength grades set out in BS 5756: 2007+A2:2017 'Visual strength grading of temperate hardwood. Specification'.
Through classroom based interactive learning, practical days spent in the timber yard and a practical examination, this course will provide delegates with:
An introduction to timber, including the uses of strength graded timber
The meaning of strength classes, an explanation of strength grading and the
Marking systems
An understanding of the responsibilities of the grader and the grading company
An introduction to the natural growth characteristics of wood using hand held samples
Practical exercises grading lengths of hardwood timber

The course includes:
Practical exercises
A written test

You should attend this course if you:
Are involved in the selection and supply of hardwood for structural use

Pre-course requirements
During the course, 3m lengths of timber will be handled on a daily basis.
Please ensure all delegates bring suitable clothing such as hi-vis vest/jacket and protective safety/footwear.
Delegates must also be aware of the correct manual handling techniques.

Course prices
£750 + VAT
Duration - Two days
2023 course dates
17-18 May, 14-15 November

Location - near High Wycombe, UK
Please note: it is a legal requirement for all structural timber used in the UK to be strength graded, UKCA marked and stamped in accordance with Annex ZA of BS EN 14081-1. In order to do this, companies that place strength graded timber on the market are required to join a certification scheme. Please contact us for further information.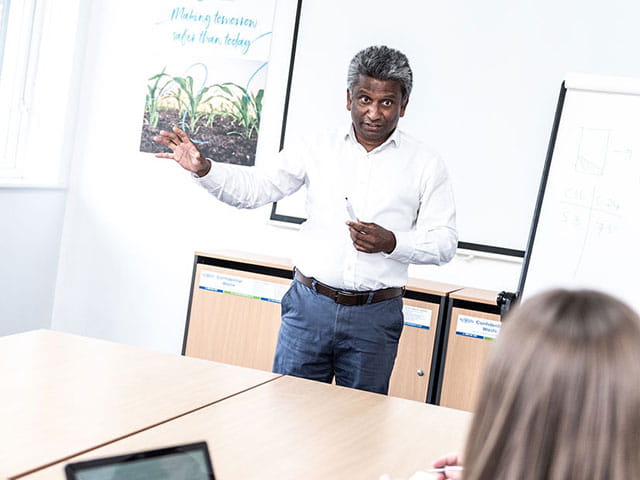 Our Capabilities
BM TRADA is a certification body and training provider and does not provide any consultancy during public or private training.
Although trainers will answer questions and provide information on best practices during the course, they do not provide specific consultancy, nor solutions or advice relating to organization issues.