UKCA marking for Construction Products Regulation
Product marking is a 'passport to trade' and helps construction product manufacturers access markets. From 1 January 2021 BM TRADA is able to offer the UKCA (UK Conformity Assessed) mark to manufacturers of construction products. This a new product mark applicable to goods being placed on the market in in England, Wales and Scotland (Great Britain). In addition to this, we are able to provide provide product marking to the separate product mark applicable to the Northern Ireland market (the UKNI mark).
These changes have come about as a result of the end of transition period of the UK leaving the European Union.
The UKCA marking construction products certification scheme covers the following products:
Roof trusses
Metal web beams
Timber frame
Aggregates
Visual strength grading
Machine strength grading
Joist hangers
Organizations must prepare for the end of recognition of the CE mark in Great Britain and use the UKCA mark by 1 January 2022.
UKCA marking experts are here to help
Our certification experts understand the specific requirements of the product marking within the UK and European Union. We understand that you may have questions about how the new arrangement will work. Please contact us to talk about your specific requirements about UKCA/UKNI/CE marking.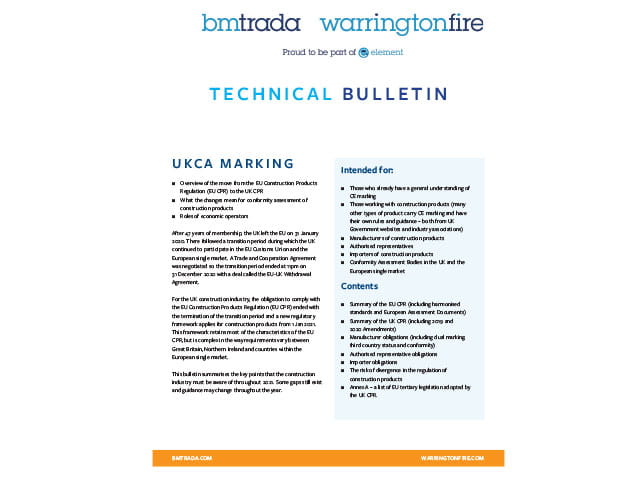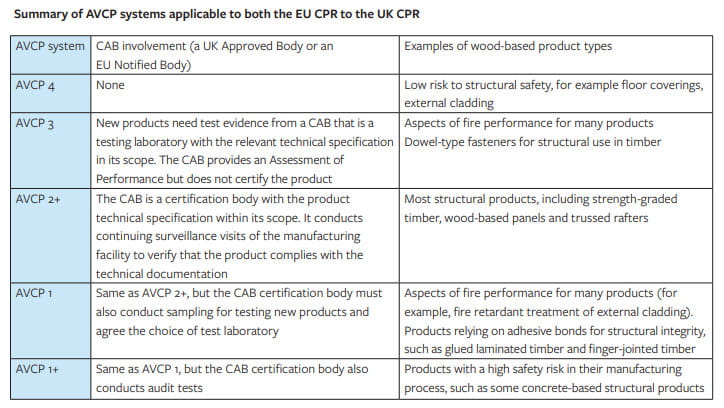 Summary Of AVCP Systems Applicable To Both The EU CPR To The UK CPR
The Assessment and Verification of Constancy of Performance (AVCP) is a system that defines how to assess products and control the constancy of the assessment results. This system acts as a safeguard, evidencing the reliability and accuracy of the Declaration of Performance.
DOWNLOAD HERE