Why do I need a Fire Risk Management System
If you are in charge of buildings, then you will know that fire safety is critical. The serious consideration of fire safety and risk management is not just a moral obligation; it is the law – and those who breach the legislation will be prosecuted.
Usually, when considering fire precautions, fire protection measures come at the top of the list of priorities. However, the quality of the fire protection measures put in place will only continue to be effective if they are managed properly – and without a thorough assessment of the risks of ignition and spread of fire, it is impossible to implement the correct level of protection.
Significant change is coming, with higher standards and more stringent enforcement. Organizations – and individuals within those organizations - realize their role and responsibilities in these areas, and demand for safer buildings has never been higher.
What is BS 9997: 2019 Fire Risk Management Systems
BS 9997: 2019 Fire Risk Management Systems (FRMS) has been developed to address management system failings identified as contributors to many significant fires. BS 9997 was released in August 2019. It is designed to provide a framework for organizations of all sizes to manage their approach to fire risk in a holistic, risk-based way, applying the widely recognized 'Plan, Do, Check, Act' test cycle.
Who would benefit from implementing BS 9997
BS 9997 was devised for organizations with a lot of infrastructure to maintain. It can be applied to those that operate on multiple sites, separate management divisions within an organization, or individual premises within a single entity. It is of particular interest to those responsible for specifying or maintaining properties where there is a higher risk to life or financial loss.
The benefits of implementing BS 9997
Like any management system, BS 9997 does not ensure that legislation is met, but a Fire Risk Management System is required to comply with current legislation. Certification to BS 9997 also demonstrates a robust commitment to fire safety to customers and stakeholders.

It enables you to have a consistent approach across multiple sites to the management and control of fire risks.
Ultimately, an FRMS and certification such as BS 9997 makes buildings safer for the people within them and safer for those who own them.
With more rigorous legislation imminent in this area and with such a high price to pay for human safety, organizations should be acting now to futureproof buildings under their ownership.
Why BM TRADA for your Fire Risk Management Systems certification
Together with our sister company Warringtonfire, BM TRADA offers a comprehensive range of services across all sectors of fire. The BM TRADA brand and our scheme logos are recognized by regulatory authorities worldwide as an international mark of fire safety across a diverse range of products, providing you with reassurance.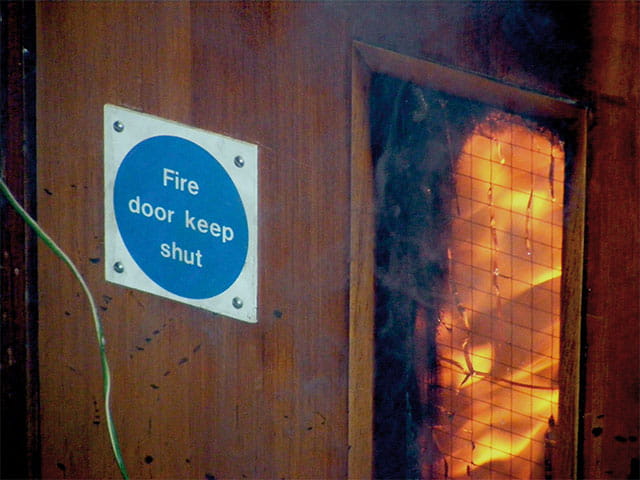 Who would benefit from implementing BS 9997
Care/Nursing homes
Contractors
Educational establishments with accommodation
Facilities management organizations
Hotels
Housing associations
Insurers
Landlords
Local authorities
NHS Trusts
Universities